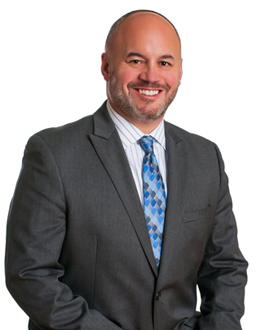 Robert A. McMahon
bmcmahon@emclawyers.com
T (513) 533-3441
F (513) 533-3554
M (513) 460-5490
Download v-card
Being the youngest of 10 children laid the groundwork for Bob's legal career. He learned the importance of always having someone in his corner; he learned how to defend himself and others; he developed interpersonal and debate skills at the dinner table as he learned to hold his own amidst strong personalities; he fostered a solid work ethic watching his parents work hard to raise their family and instill basic values; and he developed a keen sense of right and wrong while witnessing first-hand his parents and older siblings treat people fairly and with respect. That early foundation was enhanced by Bob's business courses and economics degree in college, an entrepreneurial spirit which craves on-the-spot problem solving and flourishes in the fast-paced litigation arena, and the practical experience of having launched and managed his own law firm and other business ventures. Those experiences and traits created an attorney who is passionate, competitive, and proficient, all qualities which have proven invaluable to Bob and his business and individual clients over the years.
As an attorney, Bob has worked with a wide range of clients—individuals, closely-held and family businesses, and Fortune 500 companies—all of whom had one thing in common: they needed help solving their particular problem.
On multiple occasions Bob has helped businesses protect their trade secrets and client lists when key employees departed for competitors in violation of non-compete agreements.
He has successfully defended claims brought against former employees and/or their new employers when companies tried to enforce overbroad non-competition agreements and non-solicitation agreements.
Bob's counsel has enabled one the nation's largest utility companies prevail in numerous legal proceedings as the company enforced its tariffs and easement rights, as well as its regulatory rights to access meters and prevent tampering and fraudulent activity.
He effectively stood up for an accountant shut out by his 10-year partner and threatened with criminal prosecution for embezzlement, and not only defended the false accusations but also prevailed on his client's counterclaim for breach of fiduciary duty and defamation.
He helped a former executive enforce a change-in-control provision in her employment agreement after her employer was acquired by a competitor in a hostile takeover.
On behalf of a European manufacturing company, Bob recovered a six-figure claim for unpaid materials purchased by a Fortune 100 company with operations in Ohio.
He protected the rights of three sisters, all beneficiaries of two multi-million dollar trusts, whose interests were being undermined and misappropriated by other beneficiaries.
He successfully represented a local bank in separate lawsuits (1) to defend a suit brought by one of the country's largest banks for payment on a fraudulent cashier's check and (2) to recover losses, including attorneys' fees, from a national insurance company for coverage on a depository bond.
Bob has enabled countless local professionals and businesses throughout Greater Cincinnati and Northern Kentucky (including architects, doctors, dentists, landscapers, lumber yards, cabinet and countertop suppliers, etc.) enforce their contractual right to be paid for services rendered and goods sold.
These and other clients continue to benefit from Bob's experience in court, administrative proceedings, and alternative forms of dispute resolution, including arbitration and mediation. Whatever the forum, Bob uses his natural and learned abilities to accomplish the client's desired objective and result in a reasonable, effective and efficient manner.
PRACTICE AREAS
---
HONORS & COMMUNITY INVOLVEMENT
---
Recognized by Law & Politics Media, Inc. as an Ohio Rising Star and Super Lawyer
Class VIII of the Cincinnati Academy of Leadership for Lawyers
Steering Committee, Cincinnati Academy of Leadership for Lawyers, 2007-2013
Board of Trustees, ProKids, 2014-
BAR ADMISSIONS
---
State Courts:
1994, Ohio
1999, Kentucky
Federal Courts:
1998, United States District Court, Southern District of Ohio
2000, United States District Court, Eastern District of Kentucky
2000, United States District Court, Western District of Kentucky
2003, United States District Court, Northern District of Ohio
EDUCATION
---
Notre Dame Law School, South Bend, Indiana, J.D., 1993
DePauw University, Greencastle, Indiana, B.A., 1990, Cum Laude
University of Essex, Colchester, England (spring 1989)